---
2019 (SE)
Behind Feminist Clothes
︎
Art direction | Exhibition | Graphic Design | Set Design | Norm Critical practice | Print on Fabric
Today's fashion industry is glamorizing feminist movements and reducing them to a slogan directly printed on products as marketing tools. But what lies behind these new ways of communicating?

This work explore the relationship between the H&M group using feminism marketing to sell clothes, and the working conditions in the factories that make them.
In her lecture Calling Bullsh*t on Faux Feminism as a Marketing Commodity, communications consultant Katie Martell uses the term faux feminism for the exploitation of feminism by the advertising industry. Brands are using feminist narratives to profit from women's engagement. They have seen an opportunity to sell more products to more women while glorifying their brand image.

We have focused our work on the garment industry, taking the H&M Group as a case study. It is an interesting example as this group has several brands – H&M, COS, WEEKDAY, MONKI, H&M HOME, & other stories, ARKET and AFOUND – all of which communicate in different ways.

©Exemples of Monki's feminist garments
One of their brands, MONKI, is constructed around feminist narratives. The brand uses pale pink, body diversity and feminist statement as part of its identity. For its 10-year anniversary, the campaign Monkifesto highlighted 10 statements, such as "knowledge is queen", "please yo'self" or "salute sisterhood". They were advocating for women's empowerment and claimed that as their brand values. But what is behind this marketing strategy? Does this company really "empowher" the women working in it? Under what conditions do the women who make these slogan tees really work?

©Monki Campaign – Monkifesto
© Exhibited at Konstfack spring exhibition–2019
"Working using the machine the whole day, for 12 hours, with only half-an-hour of break leaves my legs swollen. By evening it os very difficult to walk with that pain in my leg. I cannot even stand up for a while and take a walk, stretch my legs. I just have to complete my target."
©Print on top of Empowher, Monki T-shirt
Some employees and customers may think they are contributing to a good cause by selling or buying empowering slogan garments from a company that seems progressive and feminist. They may think that wearing feminist slogans printed on products is one way of engaging in a direct dialogue with the people who react to it and therefore spreading political messages. Also, they may believe that they are a part of a company fighting for equality, standing for feminist values. But in reality, a lot of these companies are just using feminist narratives as marketing tools while enslaving women. It is what Katie Martell has called the illusion of progress.
©Print on top of Salute Sisterhood, Monki T-shirt
"Girls are harassed by male workers in the factory. I have seen supervisors and mechanics pull their hair, hit their buttocks, and touch their shoulders. This happens a lot when they wait in line to use finger-print machines."
©Purple print on top of the Feminist socks by Monki
Monki is also collaborating with organisations like RFSU, Mental Health Europe and The Cup Foundation, but is this just a marketing strategy to whitewash their image? One press release states that "female empowerment is at the core of everything we do at Monki. I'm very proud to launch our collaboration with Lunette and The Cup Foundation and to provide young women in Kenya with access to menstrual care and education." This can be read on Monki's website, in the section about their campaign "periods are cool". But what is happening in their factories? Are periods cool for all the women working for them?
©Monki Campaign – Period Are Cool
©Instagram Screenshot, Monki Campaign – Period Are Cool
©Women workers testimony printed in purple on top of Period Are Cool underwear by Monki
You cannot empower some women while enslaving others. It is important to connect the products we buy to the women workers' voices, too often forgotten and hidden by faux feminism used by companies. By superimposing the workers' voices from some H&M suppliers on top of the H&M's slogans used as feminist marketing, the reality behind these shiny clothes is revealed. It shows the way fashion industries are capitalising on feminist movements and how companies profit from them.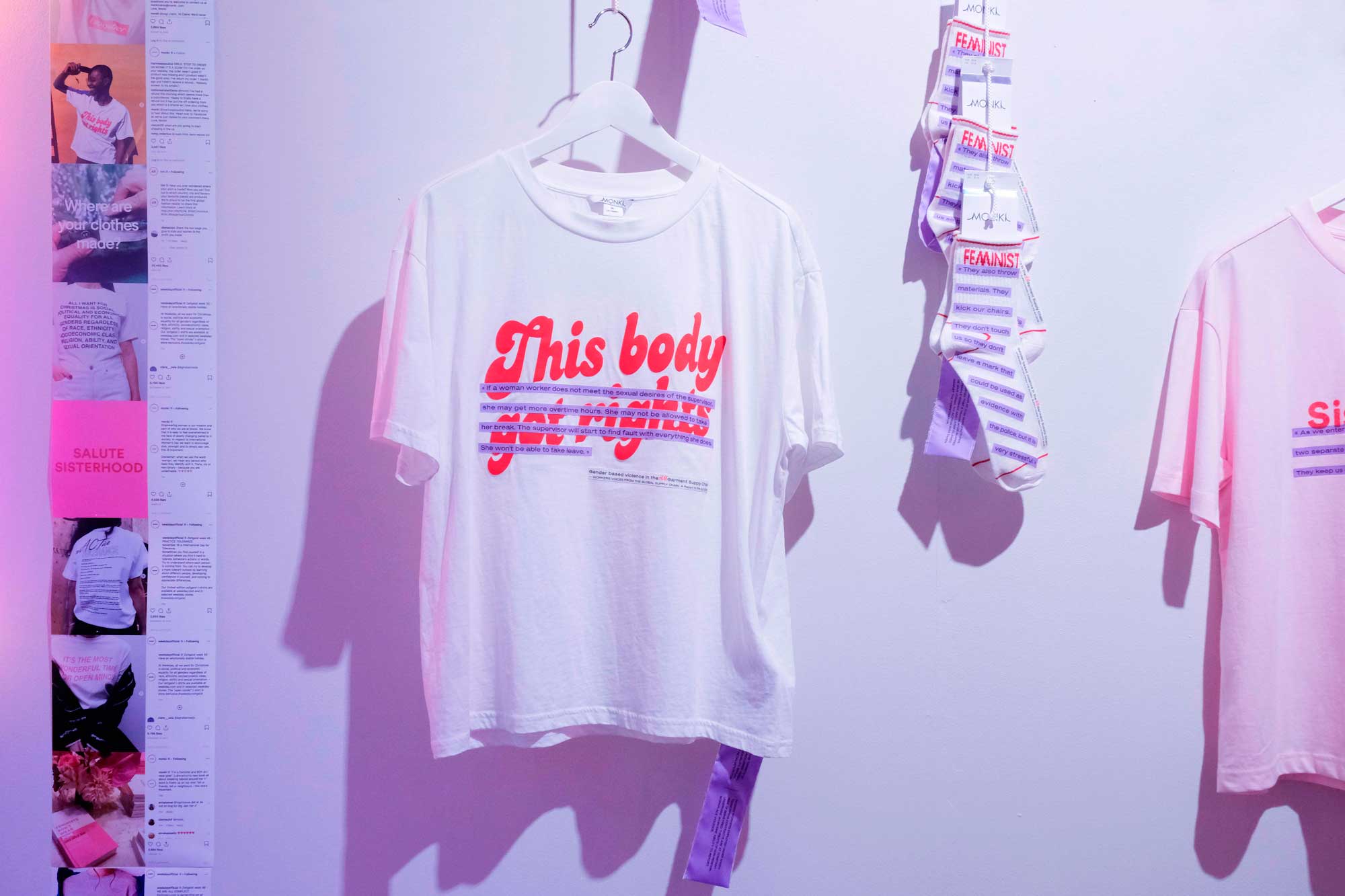 ©Women workers testimony printed in purple on top of This Body Got Right, T-shirt by Monki
Sadly, H&M Group is just an example amongst others. The global North is using the global South to profit from a cheap underpaid workforce. While feminist prints are appearing on mass produced garments, companies are neglecting to deal with their responsibilities in producing inequalities. Fast fashion is dictating the cadence of garment production, making the production targets harder to meet, which consequently brings violence. Apart from a change in the marketing strategies, industries are failing to take action. From underpaid workers to physical violence, the range of oppression and abuse, especially toward women, is deeply ingrained in the fashion industry.
©Purple print on top of Stay Strong, T-shirt by Monki


They are playing with the naivety and trust of their customers, who are often disconnected and unaware of what is happening in their factories overseas. At the same time as these garments with feminist slogan are sold, women in factories are starving, assaulted, raped and underpaid. While they are opening more shops, for the 2019 financial year around 335 new stores are planned to open, not a single worker is making a living wage.

These companies are tricking people with ctheir communication. Let's give more voices to the workers, let's take our responsibilities and let's keep awareness of the workers suffering instead of buying the next trendy tee.
"Woever, who is going to wear these clothes, I hope they can feel me. I hope they can just give me a chance to be free of this suffering." Nasreen Sheikh – Founder & Executive Director: Local women's handicrafts